UPCOMMING EVENTS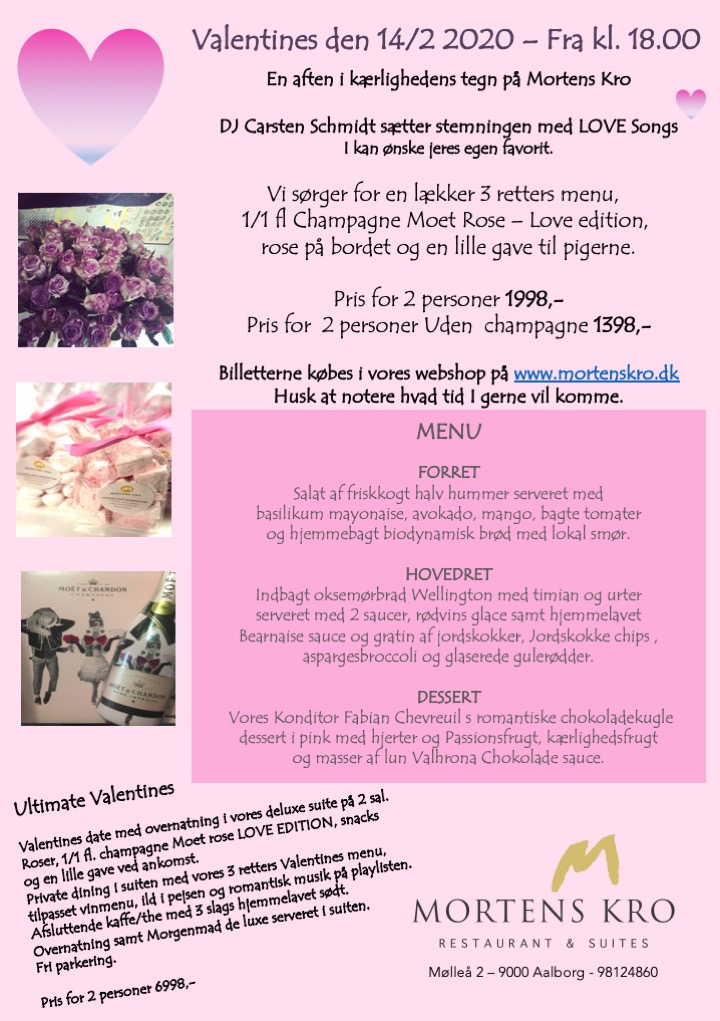 Valentines dinner
14. February 2020 18:00
Mortens Kro, Mølleå 2-6, 9000 Aalborg
Vores super romantiske valentines dinner hvor vi går all inn, roser, pink champagne , Dj der spiller lovesong, balloner og romantiske gave til pigerne.
FORRET : Salat af Frisk kogt halv hummer serveret med basilikum mayonaise, avokado, mango, bagte tomater og.
HOVEDRET: Indbagt oksemørbrad Wellington med timian og urter serveret med 2 saucer rødvins glace samt hjemmelavet bearnaiser sauce og gratin af jordskokker, Jordskokke chips , aspagesbroccoli og glaserede gulerødder.
DESSERT: Vores Konditor Fabian Chevreuil s romantiske chokolade kugle dessert i pink med hjerter og Passionsfrugt, kærlighedsfrugt og masser af lun Valhrona Chokolade.
1/1 fl Champagne Moet Rose LOVE EDITION samt lille overraskelse til at tage med hjem når i går.
Rose på bordet. DJ Carsten Schmidt spiller lovesongs hele aftenen og gæster kan ønske deres farvorit lovesong.
Pris for 2 personer 1998,-
Pris for 2 personer Uden champagne 1398,-
ULTIMATE VALENTINES
Valentines dinner i vores suiter, Champagne Moet Rose love edition samt snacks ved ankomst, Valentines menu serveret som private dining i suiten med tilhørende vinmenu, kaffe/the og hjemmelavet sødt, lille romantisk gave, lovesong på playlisten, ild i pejsen, overnatning i suiten samt vores deluxe morgenamd serveret i suiten, fri parkering.
pris for 2 personer 6998,- alt inklusive.
Køb billetter til eventet
Valgmuligheder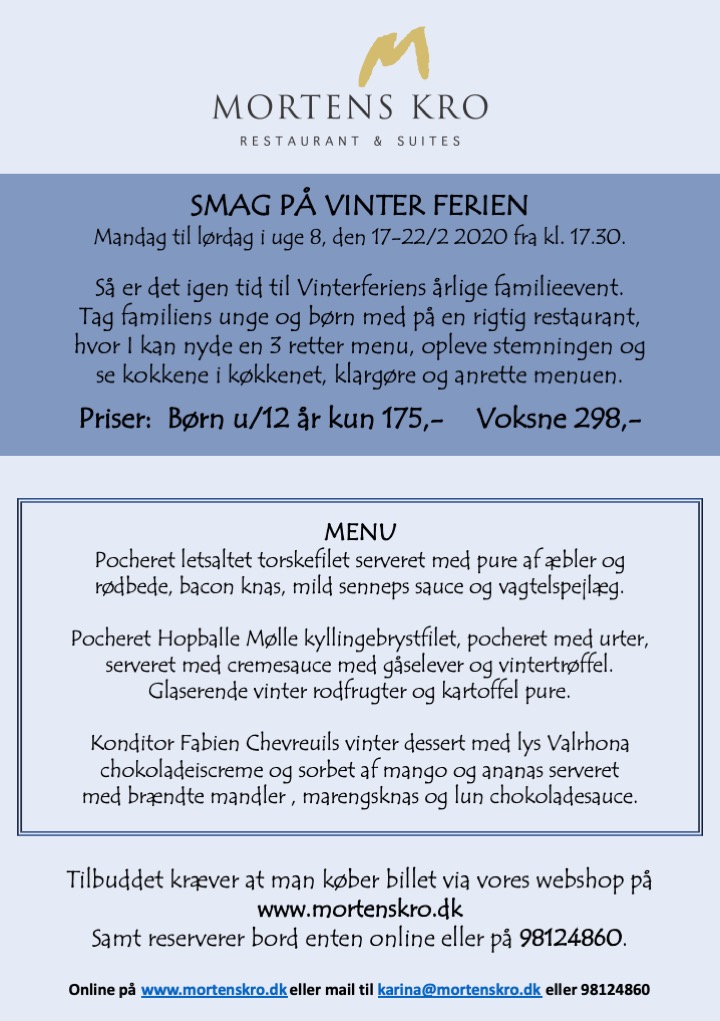 Smag på Vinterferien
17. February 2020 18:00
Mortens Kro, Mølleå 2-6, 9000 Aalborg
Oplevelse for hele familien i vinterferien i uge 8 - tag børn og ung med på rigtig restaurant og lad dem se kokkene lave maden- vi servere en lækker 3 retters vintermenu med samme retter for alle uanset alder.
SMAG PÅ VINTERFERIEN 2019
3 retters menu for børn og voksne
FORRET Pocheret let saltet torske filet – serveret med pure af æbler og rødbede, bacon knas – mild senneps sauce og vagtel spejlæg.
HOVEDRET Pocheret Hopballe mølle kylling bryst filet, pocheret med urter, serveret med cremesauce med gåselever og vinter trøffel. Glaserende vinter rodfrugter og kartoffel pure.
DESSERT Konditor Fabien Chevreuils vinter dessert med Valrhona lys chokolade iscreme og sorbet af mango og anannas serveret brændte mandler , marengs knas og lun chokolade sauce.
Børn under 12 år kun 175,-
Voksne kun 298,-
Bestil bord HER
skiv venligst SMAG i noter så vi har den rette menu klar til jer.
Køb billetter til eventet
Valgmuligheder

FOLLOW US
Follow our facebook wall where you can always keep up with the latest news from Morten Kro.
There are pictures from events, info about events and more.

FELL THE ATMOSPHERE
We put music to the food and here on our Spotify playlist you can experience the atmosphere that makes your visit to Restaurant Morten Kro something special - an experience for all senses. It must be experienced!

NEWSLETTER
Sign up for our newsletter so you are always updated about the latest news from Morten Kro.

DOWNLOAD OUR APP
Unique discounts and loyalty bonus