UPCOMMING EVENTS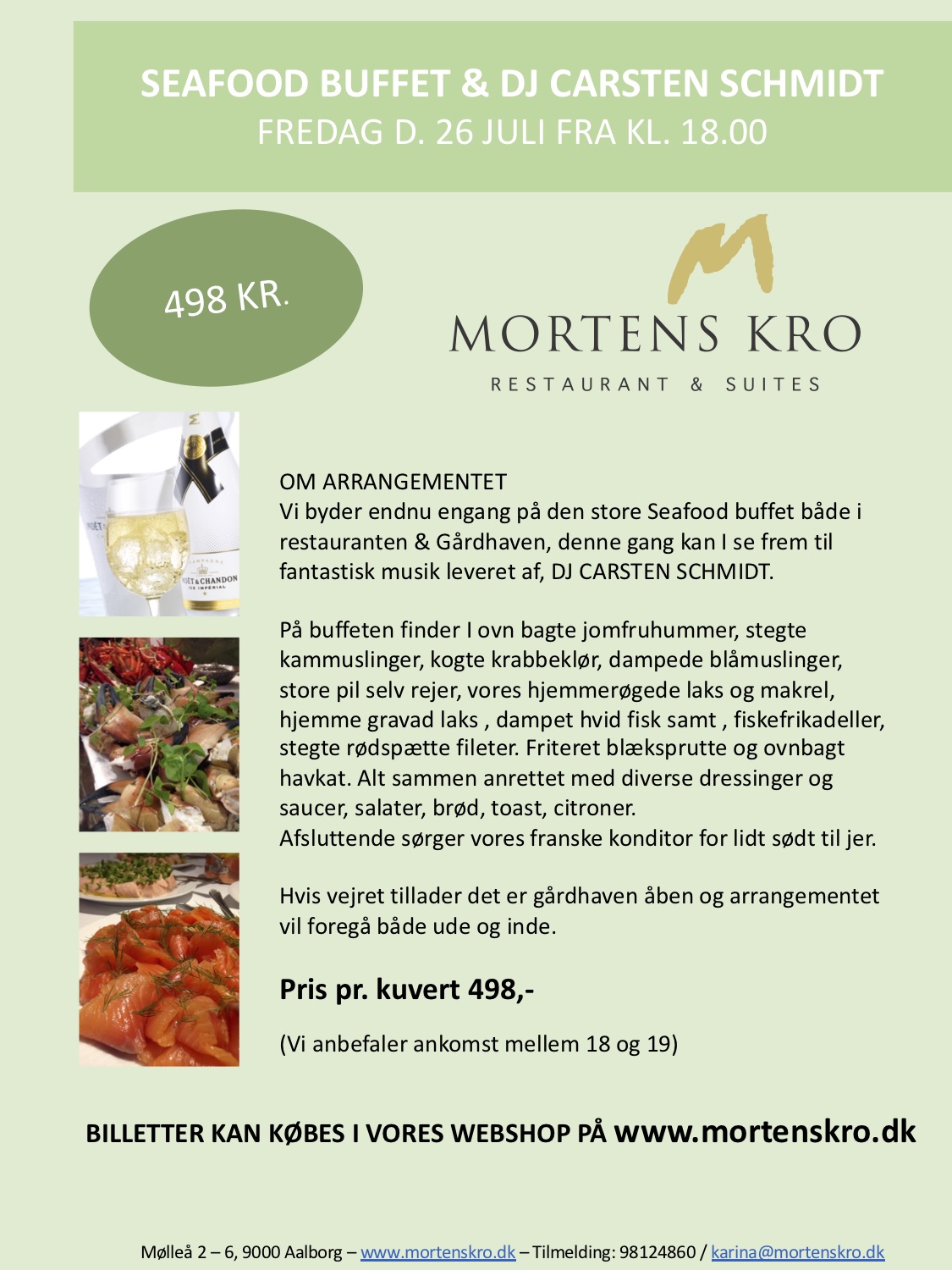 SEAFOOD BUFFET & DJ
26. July 2019 18:00
Mortens Kro, Mølleå 2-6, 9000 Aalborg
vi byder på den store fiske og skaldyrs byffet i restaurant & Gårdhave og DJ Carsten Schmidt- fredag DEN 26/7 fra kl 18.00
På buffet finder i ovn bagte jomfruhummer, stegte kammuslinger, kogte krabbeklør, dampede blåmuslinger, store pil selv rejer, vores hjemmerøgede laks og makrel , hjemme gravad laks ,dampet hvid fisk samt stegte rødspætte fileter, friteret blæksprutte, fiskefrikadeller, ovnbagt havkat mm. Alt sammen anrettet med diverse dressinger og saucer, salater, brød, toast, citroner og afsluttende sørger vores konditor for lidt sødt.
Pris pr kuvert kun 498,-
Køb billetter til eventet
Valgmuligheder
Køb billet

SMAG PÅ EFTERÅRS FERIEN
14. October 2019 17:30
Mortens Kro, Mølleå 2-6, 9000 Aalborg
En fast efterås ferie event på Mortens Kro - inviter hele familien på rigtig restaurant se kokken arbejde i køkkenet- 3 retters efterås menu kun 298,- børn under 12 år for samme menu for kun 175,- Billet salg åbner medio August.

ØSTRISK VIN GALLA
29. October 2019 18:00
Mortens Kro, Mølleå 2-6, 9000 Aalborg
I forbindelse med Den store østriske vinmesse i Aalborg hvor østriske vin producenter besøger Aalborg for at præsentere deres vine byder vi på Galla middag - med velkomst bobler og appetizer i gårdhaven, 5 retters galla menu med tilhørende østriske vine samt afsluttede kaffe/the med 3 slags hjemmelavet sødt kun 798,- pr kuvert.
Appetizers bydes rundt i gårdhaven samt velkomst drink
Tynde skiver af sandart filet serveret på spätzle samt sauce af fjordens muslinger og østers.
"risotto" af bygkorn og blomkål med stegte komfruhummer haler.
Tatar af urokse fra Thy serveret med hyben rose gele, konfiteret æggeblomme -revet tørret gåseleve, syltede stikkelbær samt små brioche brød.
Lokal Råbuk marineret i granskud og græskar kerne olie serveret med pure af kvæder, vildt glace. Morkler og jordskokker.
Konditor Fabien Chevreuils efterårs dessert dessert med bær, bisquit, hvid chokolade og is.
Køb billetter til eventet
Valgmuligheder
Køb billet

FOLLOW US
Follow our facebook wall where you can always keep up with the latest news from Morten Kro.
There are pictures from events, info about events and more.

FELL THE ATMOSPHERE
We put music to the food and here on our Spotify playlist you can experience the atmosphere that makes your visit to Restaurant Morten Kro something special - an experience for all senses. It must be experienced!

NEWSLETTER
Sign up for our newsletter so you are always updated about the latest news from Morten Kro.

DOWNLOAD OUR APP
Unique discounts and loyalty bonus