UPCOMMING EVENTS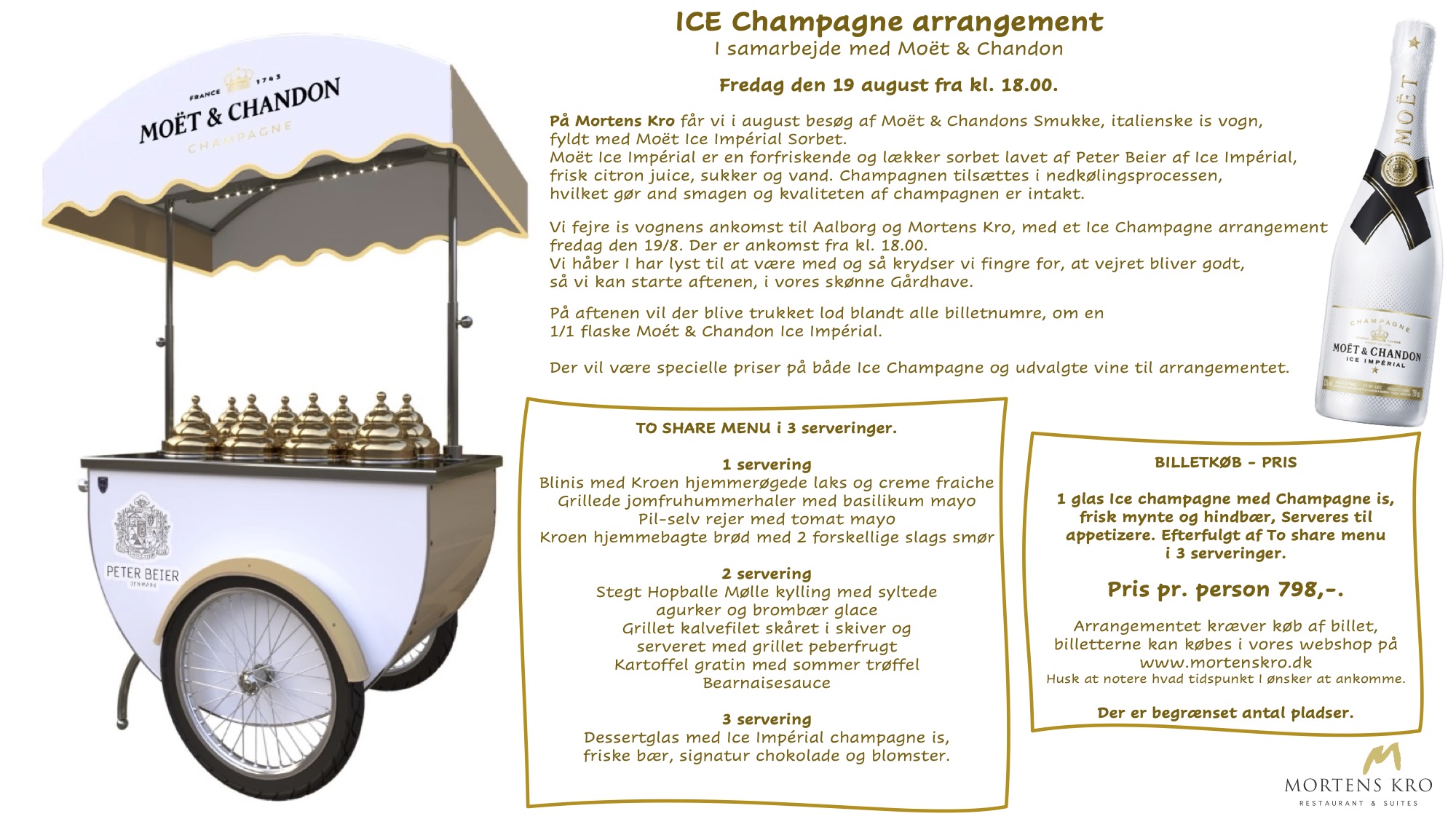 CHAMPAGNE ICE -IS
19. August 2022 18:00
Mortens Kro, Mølleå 2-6, 9000 Aalborg
Sommer event
På Mortens Kro får vi i august besøg af Moët & Chandons Smukke, italienske is vogn, fyldt med Moët Ice Impérial Sorbet.

Moët Ice Impérial er en forfriskende og lækker sorbet lavet af Peter Beier af Ice Impérial, frisk citron juice, sukker og vand. Champagnen tilsættes i nedkølingsprocessen,hvilket gør and smagen og kvaliteten af champagnen er intakt.
Vi fejre is vognens ankomst til Aalborg og Mortens Kro, med et Ice Champagne arrangement fredag den 19/8. Der er ankomst fra kl. 18.00.
Vi håber I har lyst til at være med og så krydser vi fingre for, at vejret bliver godt,
så vi kan starte aftenen, i vores skønne Gårdhave.
På aftenen vil der blive trukket lod blandt alle billetnumre, om en 1/1 flaske Moét & Chandon Ice Impérial.
Der vil være specielle priser på både Ice Champagne og udvalgte vine til arrangementet.
TO SHARE MENU i 3 serveringer.
1 servering
Blinis med Kroen hjemmerøgede laks og creme fraiche Grillede jomfruhummerhaler med basilikum mayo Pil-selv rejer med tomat mayo
Kroen hjemmebagte brød med 2 forskellige slags smør
2 servering
Stegt Hopballe Mølle kylling med syltede agurker og brombær glace
Grillet kalvefilet skåret i skiver og serveret med grillet peberfrugt Kartoffel gratin med sommer trøffel ,bearnaisesauce.
3 servering
Dessertglas med Ice Impérial champagne is, friske bær, signatur chokolade og blomster.
BILLETKØB er også din bordreservation.
1 glas Ice champagne med Champagne is, frisk mynte og hindbær, Serveres til appetizere. Efterfulgt af To share menu i 3 serveringer.
Pris pr. person 798,-.
Køb billetter til eventet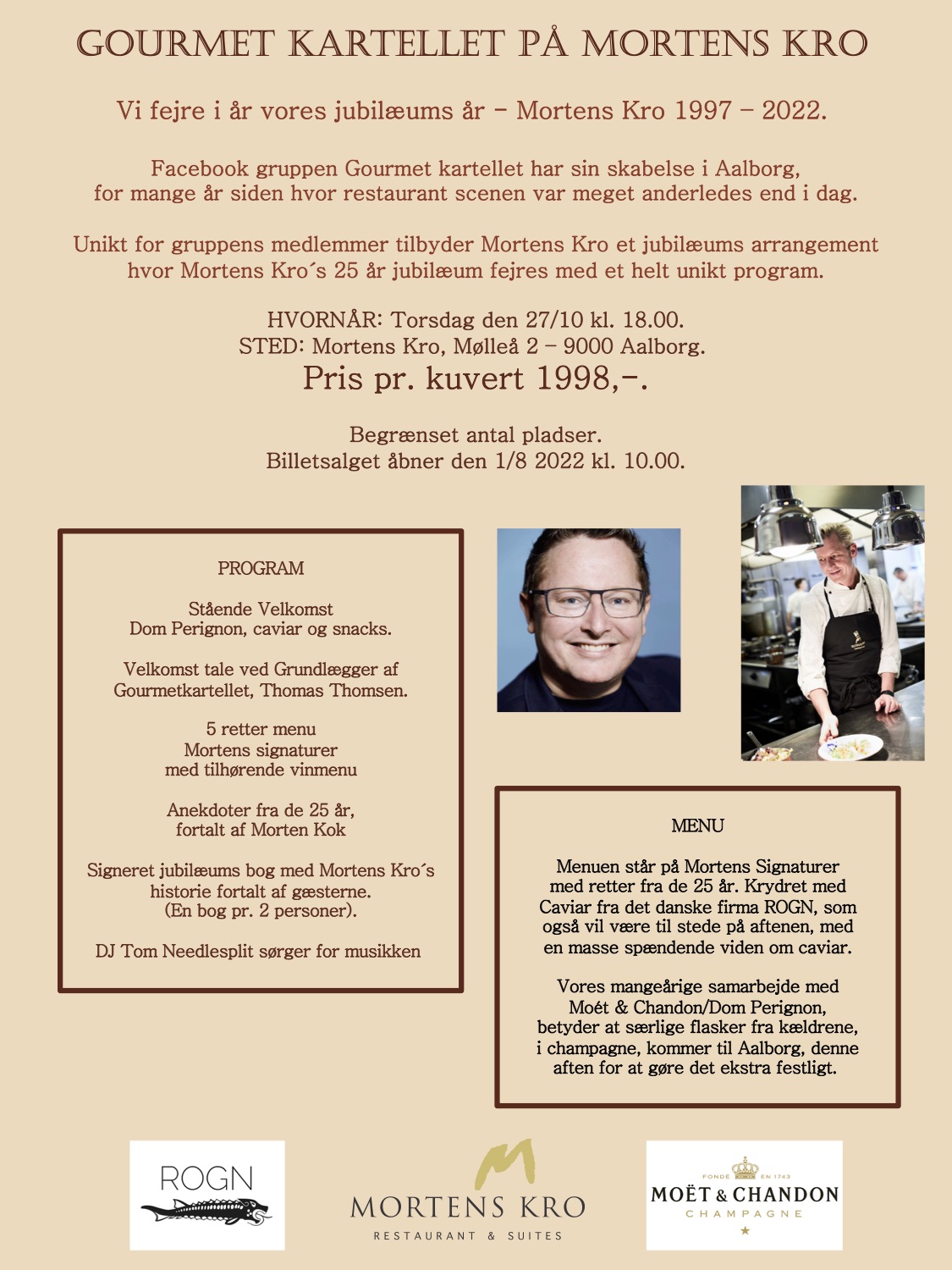 GOURMET KARTELLET JUBILÆUMS MIDDAG
27. October 2022 18:00
Mortens Kro, Mølleå 2-6, 9000 Aalborg
Gourmet kartellet har sit udspring i Aalborg for mange år siden og Mortens kro har været med hele vejen, særligt for kartellets medlemmer har vi kogt og braiseret på en helt særlig jubilæums oplevelse.
PROGRAM
Stående Velkomst
Dom Perignon, caviar og snacks.
Velkomst tale ved Grundlægger af Gourmetkartellet, Thomas Thomsen.
5 retter menu Mortens signaturer med tilhørende vinmenu
Anekdoter fra de 25 år, fortalt af Morten Kok
Signeret jubilæums bog med Mortens Kro ́s historie fortalt af gæsterne.
(En bog pr. 2 personer).
DJ Tom Needlesplit sørger for musikken
MENU
Menuen står på Mortens Signaturer med retter fra de 25 år. Krydret med Caviar fra det danske firma ROGN, som også vil være til stede på aftenen, med en masse spændende viden om caviar.
Vores mangeårige samarbejde med Moét & Chandon/Dom Perignon, betyder at særlige flasker fra kældrene, i champagne, kommer til Aalborg, denne aften for at gøre det ekstra festligt.
Køb billetter til eventet
GOURMET KARTELLET JUBILÆUMS MIDDAG

FOLLOW US
Follow our facebook wall where you can always keep up with the latest news from Morten Kro.
There are pictures from events, info about events and more.

FELL THE ATMOSPHERE
We put music to the food and here on our Spotify playlist you can experience the atmosphere that makes your visit to Restaurant Morten Kro something special - an experience for all senses. It must be experienced!

NEWSLETTER
Sign up for our newsletter so you are always updated about the latest news from Morten Kro.

DOWNLOAD OUR APP
Unique discounts and loyalty bonus