Citys Best take away april 2019 & 2021 Nordjyske newspaper
Nominated for the year's dish "smørrebrød" 2021 by The Danish food guide
Read more here
UPCOMMING EVENTS

NYTÅRS GALLA
31. December 2022 17:30
Mortens Kro, Mølleå 2-6, 9000 Aalborg
UBILÆUMS NYTÅRS GALLA 2022
( Den 25. nytårs aften på Mortens Kro)

Vi glæder os til at byde jer velkommen fra Kl. 18.00 med 3 appetizers og årgangs champagne

(HM Dronningens nytårs tale afspilles fra DR RADIO)
Efterfølgende serveres første ret af en 6 retters gourmet menu med udsøgte råvarer, som pighvar,
hummer, fransk fjerkræ, sort trøffel, krogmodnet Dansk okse og en festlig nytårs dessert fra vores konditor
Fabien Chevreuil. Vi servere en udsøgt vinmenu med udsøgte klassikske vine
og afslutter middagen med kaffe/the og petit four. Kl. 24.00 skåler vi nytåret ind i nytårs udgaven af Moet & Chandon champagne til Fyrværkeriet på Mølleplads og efterfølgende åbner baren og DJ spiller op til nytårs dans.

Pris 2498,- pr. person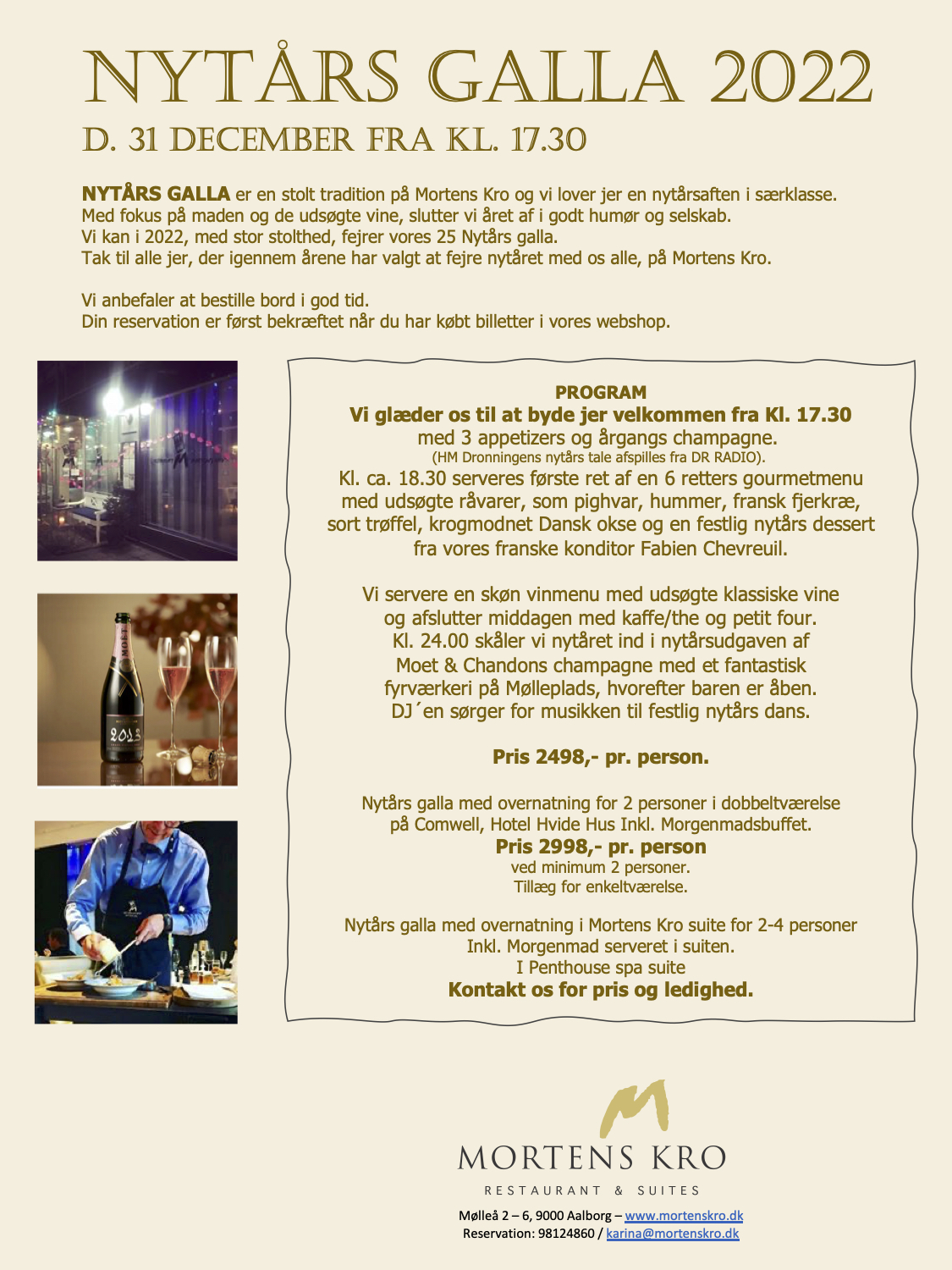 Køb billetter til eventet

FOLLOW US
Follow our facebook wall where you can always keep up with the latest news from Morten Kro.
There are pictures from events, info about events and more.

FELL THE ATMOSPHERE
We put music to the food and here on our Spotify playlist you can experience the atmosphere that makes your visit to Restaurant Morten Kro something special - an experience for all senses. It must be experienced!

NEWSLETTER
Sign up for our newsletter so you are always updated about the latest news from Morten Kro.

DOWNLOAD OUR APP
Unique discounts and loyalty bonus