UPCOMMING EVENTS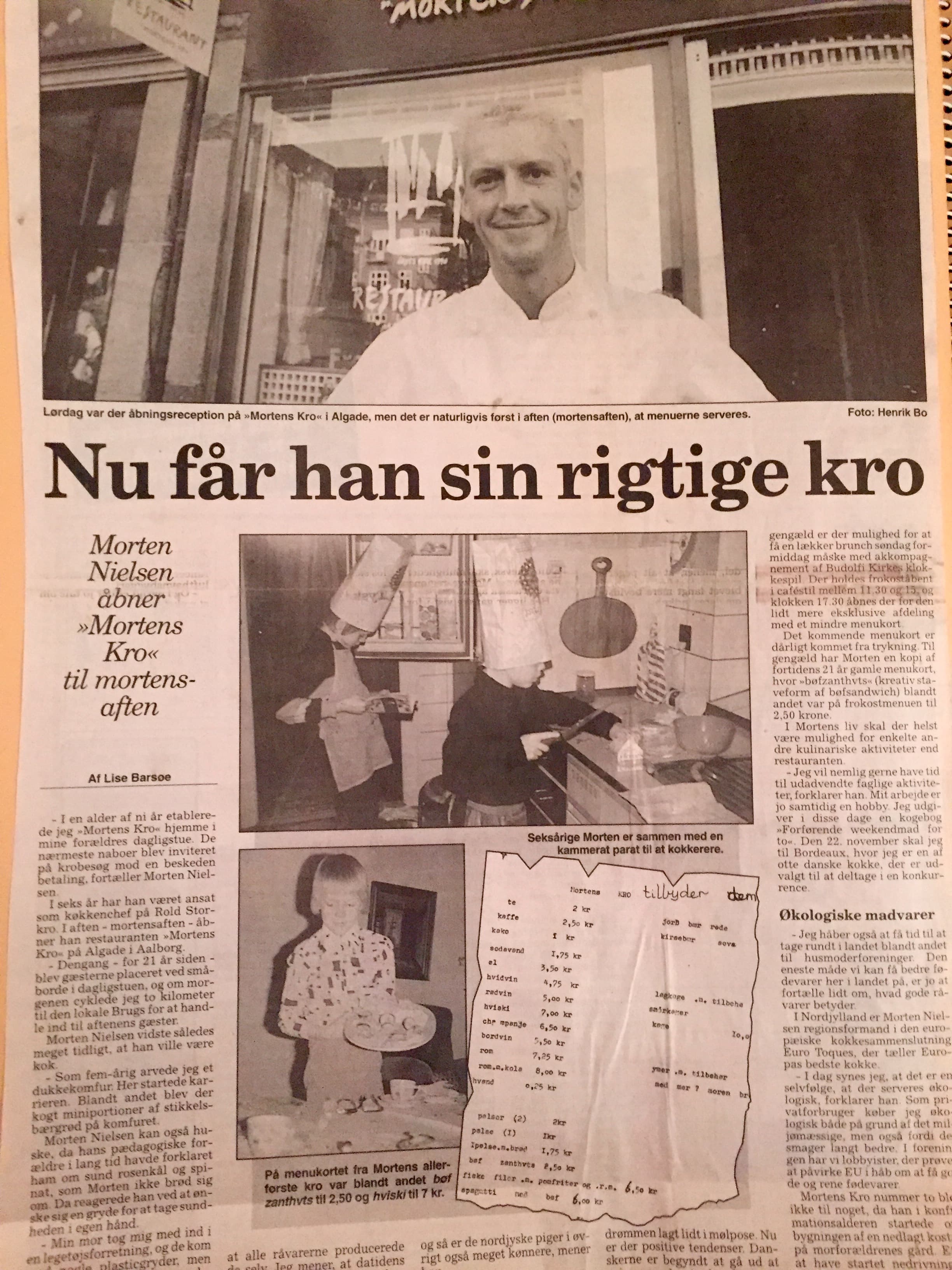 MORTENS AFTEN Onsdag den 10/11 fra kl 18.00
10. November 2021 18:00
Mortens Kro -Mølleå 2-9000 Aalborg
En stolt tradition på Mortens Kro er MORTENS AFTEN – og det ligger både i navnet men også i den historie at Mortens kro åbnede dørende første gang netop Mortens Aften den 10/11 1997 i små lokaler i Algade – hvor frisk slagtede gæs fra Vitskøl kloster bliver kørt ind til åbnings aftenen. En tradition vi har hold ved lige siden.
MENU
Forret
Hjemmerøget laks, jordskokke creme, white sturgeon kaviar, dild olie, peberodscreme og små salater.
Hovedret
Stegt dansk frilandsand fyldt med svedsker, æbler og timian serveret med skysauce, glaseret rødkål, syltede tyttebær og brunede kartofler, kartoffel chips.
Desset
Hvid chokoladekvæde fyldt med kvæde kompot og makron. Pyntet med tørret æble, marengs og pure.
3 retters menu med appetizer Pris pr. Person 598,-.
Champagne Moet & Chandon grand vintage brut rose 2013
3 retters menu med 3 glas vinmenu Pris pr. Person 1098,-.
BORDRESERVATION:
Køb billet via vores hjemmeside,
Under afhentningstidspunkt, noteres det tidspunkt, man ønsker at reservere bord til. Mellem Kl.18.00 & 19.00

Køb billetter til eventet
Valgmuligheder
NYTÅTS GALLA
31. December 2021 17:30
Mortens Kro, Mølleå 2-6, 9000 Aalborg
PROGRAM
Vi glæder os til at byde jer velkommen fra Kl. 17.30 med 3 appetizers og Champagne Moét & Chandon Grand Vintage Rose 2013.
6 retter gourmet menu med udsøgte råvarer, som pighvar, hummer, fransk fjerkræ, sort vintertrøffel, krogmodnet Dansk okse og en festlig nytårs dessert fra vores konditor Fabien Chevreuil.
Vi servere en udsøgt vinmenu, med klassiske, store vine og afslutter middagen med kaffe/the og konditorens petit four.
Pris 2498,- pr. person.
Nytårs galla med overnatning for 2 personer i dobbeltværelse på Comwell, Hotel Hvide Hus Inkl. Morgenmadsbuffet.
Pris 2998,- pr. person
ved minimum 2 personer.
Tillæg for enkeltværelse.
Nytårs galla med overnatning i Mortens Kro suite for 2-4 personer
Inkl. Morgenmad serveret i suiten.
I Penthouse spa suite
Pris 4998,- pr. person
I Luksus suite
Pris 4498,- pr. person
ved minimum 2 personer.
Ophold i suiter bestilles på Karina@mortenskro.dk
Køb billetter til eventet
Valgmuligheder
MORTENS AFTEN Onsdag den 10/11 fra kl 18.00

FOLLOW US
Follow our facebook wall where you can always keep up with the latest news from Morten Kro.
There are pictures from events, info about events and more.

FELL THE ATMOSPHERE
We put music to the food and here on our Spotify playlist you can experience the atmosphere that makes your visit to Restaurant Morten Kro something special - an experience for all senses. It must be experienced!

NEWSLETTER
Sign up for our newsletter so you are always updated about the latest news from Morten Kro.

DOWNLOAD OUR APP
Unique discounts and loyalty bonus