Citys Best take away april 2019 & 2021 Nordjyske newspaper
Nominated for the year's dish "smørrebrød" 2021 by The Danish food guide
Read more here
UPCOMMING EVENTS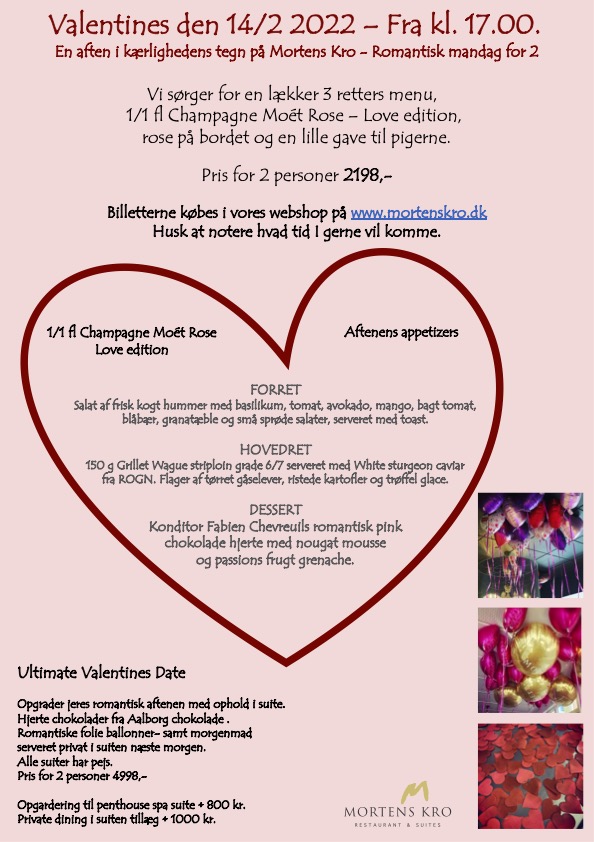 VALENTINES DINNER
14. February 2022 17:30
Mortens Kro, Mølleå 2-6, 9000 Aalborg
En Romantisk mandag aften i kærlighedens tegn <3
Køb af billet gælder som bord reservation, arrangemnet kan ikke bookes uden køb af billet.
ROMANTISK AFTEN FOR 2
Aftenens appetizer
FORRET: Salat af frisk kogt hummer med basilikum, tomat, avokado, mango, bagt tomat, blåbær, granatæble og små sprøde salater, serveret med toast.
HOVEDRET:150 g Grillet Wague striploin grade 6/7 serveret med white sturgeon caviar fra ROGN – flager af tørret gåselever– trøffel glace. / ristede kartofler.
DESSERT:Koditor Fabien Chevreuils romantisk pink chokolade hjerte med nougat mousse og passions frugt grenache.
Valentines menu for 2 inkl. 1/1 fl Champagne Moet rose valentines edition. 2198,-
OPGRADERT TIL ROMANTISK OPHOLD I SUITE - PENTHOUSE SPA SUITE.

Vi byder velkommen med ild i pejsen, ude spa er 40 C -hjerte chokolader fra Aalborg chokolade
Romantiske folie ballonner- samt morgen mad serveret privat i suiten næste morgen.
Fri parkering, wifi og fitness. Alle suiter har pejs. Samlet pris 4998,- for 2 personer.
Opgardering til penthouse spa suite + 800,-
Privat spisning i suiten + 1000,-
Se mere om suiter på https://mortenskro.dk/mortens-kro-suiter
Køb billetter til eventet

FOLLOW US
Follow our facebook wall where you can always keep up with the latest news from Morten Kro.
There are pictures from events, info about events and more.

FELL THE ATMOSPHERE
We put music to the food and here on our Spotify playlist you can experience the atmosphere that makes your visit to Restaurant Morten Kro something special - an experience for all senses. It must be experienced!

NEWSLETTER
Sign up for our newsletter so you are always updated about the latest news from Morten Kro.

DOWNLOAD OUR APP
Unique discounts and loyalty bonus