GOURMET STAY 2020
When good food is served with the right choices of wine, it will be the main subject in any get-together. But as an evening progresses, the meal often gives way to an increased presence, which is about the essence – to be together and include each other in our thoughts and experiences. When the hunger is maintained, the mind becomes more present and in reality there is much more than sticks to our consciousness. You can by all means easily enjoy the best tastes in abundance. But the experience will never reach its true heights, if you don't share it with the ones you care about.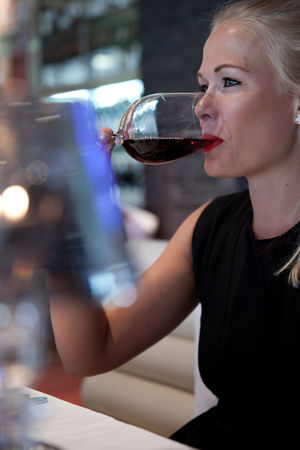 ¨Mortens kro¨ is arguably the most cosmopolitan decorated place of its kind in Kingdom, and is by VisitDanmark also called one of Aalborgs more interesting attractions. At the same time we put great pleasure in welcoming guests from all over the world, to show them what Nordjyllands interesting capital has to offer.
You can try over new de luxe suites situated on 2 floor of the restaurant - specious privte suites with all facilities or you can stay at the COMWELL HOTEL WHITE HOUSE the towns newest renovated hotel – placed in centrum and only a 15 minute walk your are accommodated into its light, modern and nordic decorated rooms with all facilities. In the evening you are welcomed with open arms at Mortens Kro – with a lovely glass of Champagne, followed by a five-course tasting menu including delicious wines, carefully selected to fit each dish – than we treat you with the pleasure of coffee and homemade chocolate. After a lovely evening – where you are off course welcome to stay for a long time – the following day you will consume at the hotel a big organic breakfast buffet, then we will thank you for now, and hope to see you again.
Price pr person in a double room 1898,00 DKR
Price in a single room 1998,00 DKR.
Price pr person in a Mortens kro deluxe suite 2298,-
booked via our online booking site www.mortenskro.dk (click on the reservation) and in the box type ¨Gourmet Stay¨. You will then be contacted by us within 24 hours. or call +4598124860 or send email to our gueast relation at Karina@mortenskro.dk
MORTENS KRO SUITES
For more than 21 years, Mortens Kro has been the guarantor of quality and in our newly established suites which are located on the 2nd floor of Mortens Kro, we continue a long-standing dream of bringing our style, personality and service to include hotel operation for the discerning traveler there want to stay better than home. Our suites are spacious and are 86 sqm and 112 sqm with two seperate bedrooms and up till 4 people
- we offer terraces with views to cozy courtyards and the city's landmark -
Modern Scandinavian home furnishings,
flat screen TV with chome cast and TV package,
free wifi,
modern art,
Le feu bio fireplace,
Original WaterRower firtness ,
Nespresso coffee machine,
well-equipped minibar,
kitchen,
wonderful beds from Wonderland and Piero Lissoni,
well-equipped bathrooms with hairdryer, cosmetic mirror, baths and care accessories, bathrobes and slippers,
laptop size safe box,
breakfast served in suite
room service during restaurant opening hours.
Parking
airport service,
laundry and dry cleaning service.
butler service
turndown service
S uite per Day for 2 persons 2800 dkr includes free parking, free wifi, eksklusive breakfast served in the suite BOOK HERE
Mortens Kro suites are located on the 2nd floor on Mortens Kro in the center of Aalborg in the old romantic district with neighboring streets Hjelmerstand and Pederbakkesgade. Walking distance to Aalborg Waterfront with Musikkenshus and Utzon center, as well as railway station and Aalborg congress and culture center. Close to pedestrian streets and the city's department stores Salling and Magasin